Beep Beep!
Be it festival or farmers market, you'll find us where the fun is. Our Bonjour Crêperie food truck fleet travels all over the Tri state area serving luscious crêpes and making people happy! Some of our favorite events are Phoenexville Food Truck Fest, Manayunk StrEAT Fair and Philadelphia Night Markets, but the list goes on… don't forget to like us on Facebook to find out our weekly whereabouts.
Also, check out our Catering page for more information (and inspiration) on how you can make your party or business gathering an unforgettable one!
Find out where we're gonna be
December

2022

Mon
Tue
Wed
Thu
Fri
Sat
Sun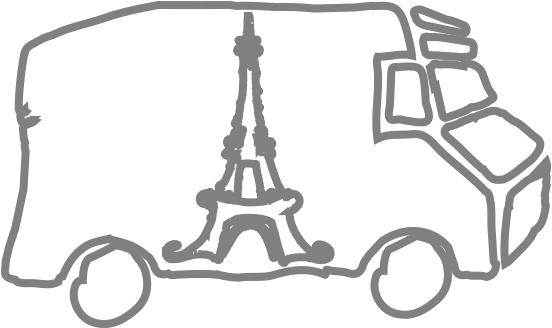 Check out our Menu!
Savory Crêpes
(Gluten free and dairy free batter, made with stone ground buckwheat flour, filtered water, and French grey salt from Guerande)
Jojo
Grilled Chicken, Crispy Bacon, Triple Cheese Blend and BBQ Sauce.
Celso
Fresh Mozzarella, Sliced Roma Tomatoes, Baby Spinach, Basil Pesto & Balsmic Reduction
*add Chicken - optional.
Orlando
Grilled Chicken, Spinach, Triple Cheese Blend, Truck Made Fresh Guacamole & our Chipotle Sour Cream.
Jacques
Applewood Smoked Ham, Baby Spinach, Triple Cheese Blend, Roma Tomatoes & our signature Champagne/Dijon Vinaigrette.
Sweet Crêpes
(Batter made with selected flours mix, local farmers whole milk and free-range eggs.)
Bella
Nutella with Choice of Fresh Strawberries and/or Bananas.
Plain Jane
French Butter d'Echire & Organic Sugar.
Olivia
Dark Chocolate & Fresh Strawberries with Whipped Cream.
Kyra
Cinnamon, Sugar & Squeeze of Lime.
S'more
Creamy Reese's Peanut Butter, Nutella, Crushed Graham Crackers & Mini Marshmallows.