A crepe is like a blank canvas…
Just add your imagination…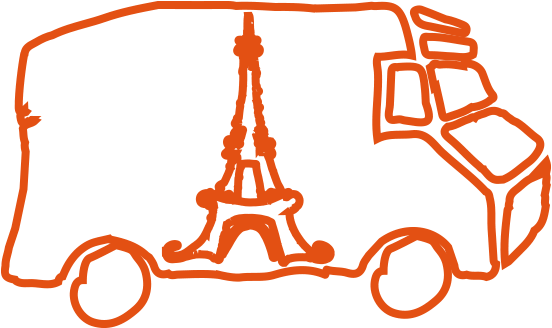 December

2022

Mon
Tue
Wed
Thu
Fri
Sat
Sun
Your creativity is limitless!!
Bonjour Crêperie's inspired menu promises what we are most passionate about—good food that makes everybody happy. Only the finest ingredients find their way to our kitchen. Our milk, flours and young hen eggs, among many other ingredients, are sourced from local providers. True to our roots, we use only genuine French butter (Beurre d'Echire) for its unique and incomparable flavor.
Like us on Facebook to find out where our food trucks will be, or come visit us at the Stockton Market on Saturdays and Sundays. Also, check out our catering page for more information (and inspiration) on how you can make your party or business gathering an unforgettable one!


"Holy hell I've died and gone to slender pancake heaven! Good god I just had multiple foodgasms (which I think they allow in heaven?)."
– Shauna G.
"Good crepe. Had the Cordon Bleu which had ham, blue cheese, and Spinach. Definitely will be visiting them next time around."
– Dave S.
"Yumm!! First off, I love crepes. I found this food truck at the Night Market and ordered the Jojo crepe. It was savory: chicken, bacon, BBQ sauce, cheese. It was great and the chicken was so tender and soft. I hate dry chicken! Next time I will try the sweet crepes, because nutella crepes are awesome and I'm sure Bonjour Creperie's are excellent."
– Katelin S.
"All I can say is….food truck, where have you been my whole life?!! I never thought food made in a truck would surpass food prepared in a restaurant!"
– Martha M.